This week, on NetGalley Friday, I read Grave Mercy, the first in the His Fair Assassin series. Thank you, NetGalley and Houghton Mifflin Harcourt for providing me with a copy in exchange for an honest review.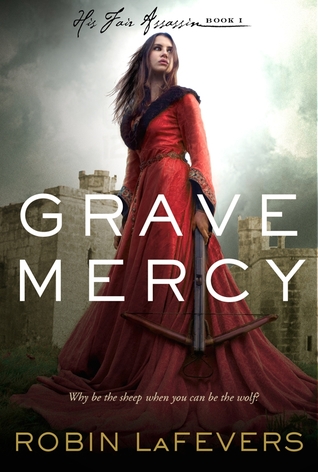 Rating: 4 Stars
Published: April 2012
Genre: Historical Fiction // Young Adult // Fantasy
"When one consorts with assassins, one must expect to dance along the edge of a knife once or twice."
Ismae Rienne is born even after her mother tried to abort her by using a poison from an herbwitch. This leaves her with a scar on her back claiming her as St. Mortain's child.  Ismae eventually comes to the convent of St. Mortain where she is trained as an assassin to carry about Death's wish. After her second assignment Ismae meets Gavriel Duval. Duval is frustrated because she keeps killing the men he was sent to interrogate. He ends up bringing her to Court under the guise of being his mistress.  She's there as her last test before she can fully take her orders as part of the convent. As Ismae tries to figure out who she's supposed to kill next, she may be falling in love with the man who brought her there.
Other reviewers have said that they find parts of it boring.  While it's true that the "action" dies down, I wouldn't call it boring! It's fascinating to me to read about this world and time in history that I know very little or nothing about.  I absolutely love that it's a well-researched historical fiction that blends fiction and reality. It's very well written and it felt like it wasn't written in this time.
I liked that Ismae was an evolving and changing character. It made her more real. All the characters were full of life and easy to get to know. There was a full cast of characters but I feel like it didn't get that confusing, which is a hard feat.
So, it's a little romancy, yes. But it's also still Young Adult. While it's not as much as much romance I would expect from a historical romance, some of the words is close to what you would find in one.  However, it remains in the Young Adult genre by not being graphic.
The reading is subtly funny.  I was appreciating the wit throughout the entire novel.
"I pause at the door, wishing I could find a corner and sleep until my head clears, but the sailor said the abbess is expecting me, and while I do not know much about abbesses, I suspect they are not fond of waiting."

"Behind me, the door opens and Louyse bustles in. "My lady! Come away from there before you catch you death!"
Her words bring a smile to my lips.  Does she think Death is some small bird with my name written on it, beating at the window in the hope that I will catch it?"
I think the romance with Duval is too obvious. He's one of the only viable men Ismae sees as soon as she leaves the convent for her assignment. But I still loved it.
I loved the idea of the handmaiden of Death. An order of nuns that are trained as assassins? How could you not fall in love with a story like that? Woman as powerful killers that are trained and brought up to kill those that their god chooses? WOMEN. Not men. LOVED that. Go women!  Though I have to say, I feel like there wasn't enough killing that I would normally associate with a story who's main character was an assassin.
I'm so excited for next one but I feel like I'm not done with Ismae yet.  As much as I want to read Sybella's story,  I want more info on Ismae and Duval. I greatly enjoyed reading this and wish it didn't end!
Look for my review of Dark Triumph, coming in 2015!