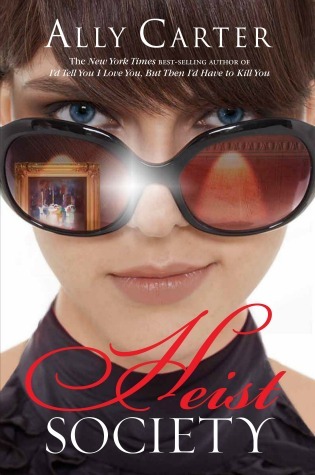 Rating: 5 Stars
Published: February 2010
Genre: Young Adult
Favorite Quote: 
"There are stories thieves don't tell- trade secrets, mostly. Or incriminating tales. Or mistakes too embarrassing to repeat.  The story of Kat and Hale was none of those things, and yet it was one she never said aloud; at that moment she wondered why.  She studied him across the room.  He smiled back in a way that said, despite the music and distance, somehow he'd heard- somehow he was thinking the exact same thing."
I think the best synopsis I can give is actually taken directly from the text. "Everyone had heard a different story, but no one knew the truth- that Kat really had grown up all over Europe, but she wasn't an heiress.  That she did, in fact, have a Faberge egg, but she wasn't a Romanov.  Kat herself could have added a thousand rumors to the mill, but she stayed quiet, knowing that the only thing no one would believe was the truth." Kat grew up in the family business.  She was apart of a family of thieves.  When her dad is thought to have stolen from one of the most ruthless men, Arturo Taccone, Kat comes back from walking away from her life.  She is determined to clear her father's name and to find out who actually stole Taccone's paintings. Things get complicated when the thief envokes one of the only laws in the thieving business and Taccone threaten's Kat's family if she doesn't get his paintings back in time. Kat, along with her crew, try to pull off one of the most complicated heists in history.
Ally Carter takes you into a world of billionaires and thieves.  All who are incredibly well-spoken for their age. I really enjoyed this. It wasn't like other young adult novels I've been devouring.
There were little moments that caught me off-guard that made me fall in love with the writing all over again. The only thing that I can criticize about this novel, is that because of the way that the teenagers are acting (no, not how they're organized thieves, but because how Hale and Kat act together. They don't SOUND like teenagers. At least not 15 & 16 year olds. Maybe late teens. But definitely not that young. Young Adult novels give me so many unrealistic expectations about love and I'm a 22 year old!) For instance, this scene…
"Dance with me."
"What?" she asked, but his arms were already going around her waist.  He was already holding her tightly against him.
"Dancing.  Come on.  You can do it.  It's a lot like navigating through a laser grid.  It requires rhythm."  He moved her hips to the beat of the distant music. "And patience." He spun her out slowly and back toward him. "And it's only fun if you trust your partner." The dip was so slow, so smooth, that Kat didn't know it was happening until the world had already turned upside down and Hale's face was inches from her own.
"Count me in, Kat." He squeezed her tighter.  "You should always count me in."
Can you say SWOON. Man. I wish that happened to me when I was 15. Sadly, I didn't. Then again, I didn't know any obscenely rich 16 year old boys.  Maybe that's how the sophisticated rich really act.  Regardless, I loved the scene. That writing. I honestly forget the age of the characters because it really doesn't matter.
There's a cadence, a rhythm, to the words on these pages. There's a poetry in the phrases and scenes are worded.  It makes me fall in love wit the placement and order of the words on the page. Everything is easily visualized.  It's almost like reading a screenplay.  The way that Ally writes allows for perfect visualization of the scene and the placement of the characters.  Everything is so beautifully described. "But instead she inched away from the very kind, very funny, very handsome boy who had followed her into the dark, somehow bringing the music with him."
Some of the backstory isn't completely fleshed out.  We still don't know how Kat and Hale met, though we were teased with the fact that she tried to steal from him.  Ultimately, I think I read this book at the right time.  It was just so good to me, it's for sure one of my new favorites in YA fiction.  It's fun, it's original, and the writing is fantastic. It's everything I would want my novel to be.