I'd like to say thank you to NetGalley and Blackbird Publishing for providing me with a copy of Reckless in exchange for an honest review.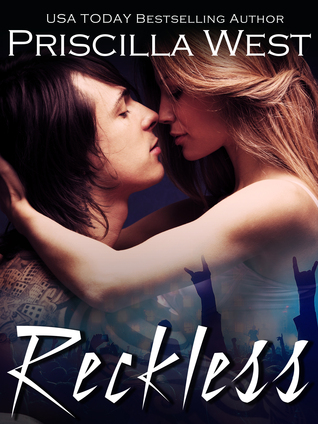 Rating:  4 Stars
Published: August 2014
Genre: New Adult // Romance
Favorite Quote:  I read this so fast that I didn't even try to take the time to write down quotes I liked. I did happen to find one at the end…
"You bury your demons to starve them, to weaken them because they're too strong to face directly.  After a while, you get stronger and the demons get weaker."
Reckless by Priscilla West is about an accountant named Riley who gets a job as a tour accountant for a band named The Hitchcocks.  Little did she realize it was the same band that she saw play at a dive bar two nights before she got the job.  And the lead singer was HOT. Like, Riley made some questionable decisions when he invited her backstage, HAWT.  Riley left him wanting more and didn't look back.  When she showed up to get on a tour bus the following Monday morning, she had no idea that her one-night stand (if you could even call it that) was Jax, the lead singer of the band she was supposed to budget.  Riley struggles with professionalism when Jax keeps taunting her but she know bad boys are no good and Jax is the dark and moody type for sure.  They both have secrets that will threaten their relationship.
Oh. Hot. Damn.
I read this book in just over 5 hours. I was enthralled.  It reminded me a lot of Beautiful Disaster but without the back and forth I want you, I don't want you shit. I had never heard of the Forever series nor have I read anything by Priscilla West.  I've just recently got into Romance/New Adult books but I was blown away.  This is a novel with beautiful complicated people who happen to have some great sex. That may be an understatement. It it smoldering.
The characters are complicated. They're human. They're relatable (mostly). Romance novels are perfect for when you want to get out of your own head. They are the best escapism. Total fantasy worthy. And trust me, some scenes you won't be able to get out of your head.  They'll leave you breathless.
On a different note, I loved reading about the concerts and the lyrics. You could picture everything so vividly. It reminds you of music that just gets to you. Think of a song that makes you want to melt into the lead singer's voice. That is what described here when Riley watches Jax play. Oh. Hot. Damn. There are so many different bands you could be picturing while reading this book.  That's the great part, you can pretty much picture any band when reading this.  As I write this, I'm listening to Sometime Around Midnight by The Airborne Toxic Event.  It even kinda relates. But I digress.
The only bad thing I can say is that I think the timeline is a bit unrealistic but I guess that just seems to be the trend in romance novels. While I don't mind, because these books are for escapism, it sometimes nags at the back of my mind.
Do yourself a favor and before you pick up this book, make a playlist of your favorite bands with male lead singers that have deep sexy voices. You'll thank me later.
I am thrilled that Fearless will be released in a few weeks.  This one left on a cliffhanger and I can't wait to read what happens next. This series is something I will be following from now on. Move over Black Dagger Brotherhood.  Forever is taking your place.